Below are the Training Times and locations of our weekly classes.
We have Junior to Adult Karate classes, Competition Karate classes and an Adult Fitness available. Also private Tai Chi lessons on request. Classes are located in Bangor and Newtownards.
Beginners are welcome to come along and try an introductory class for FREE. We take pride in helping students with health, confidence, fitness, martial skills and more.
---
Carnalea Methodist Hall 
Monday night karate
Juniors 7pm-8pm (age 6 -12)
Seniors 8pm-9.30pm (A good time for parents with older children)
---
Ards Blair Mayne Wellbeing & Leisure Complex
Wednesday night karate
(A good time for parents with children)
All students 6pm-7pm (age 6+) in Studio 2
---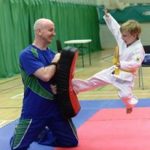 Aurora Leisure Center
Wednesday 'after-schools' karate class
Juniors (age 5 – 11) 4.30pm-5.15pm (A slightly shorter class to cater for young beginners)
Thursday night karate
All students (age 6+) 6.00pm-7.00pm (A good time for parents with children)
Friday afternoon Competition Karate class
Selected students 5.00pm-6.00pm
---
Adults Only  
Fast Fit
No Martial Arts experience required.
Speed, strength, plyometric strength, core and Shaolin stretching to start the day off. Great for over thirties!
Saturday mornings.
8.00am – 8.45am in Bangor Aurora, badminton court.
Tai Chi
Easy to learn Tai Chi, combined with loosening and Chi Quong. A relaxing way to start your morning, increase your circulation and hopefully lower blood pressure.
(available on request)